---
Posts: 127
Joined: Fri Jan 26, 2018 10:07 pm
Location: Tashkent, Uzbekistan
Thank you for the info! I'm gonna try out now...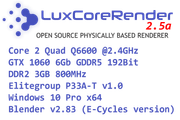 ---
I hope very much that one day there will be a project in my practice to use Luxcore on the rendering farm.
Linux Plasma | Ryzen 5, 32Gb, SSD M2, GT 590 RX | BenQ 27 | Wacom One | Microsoft Ergo | Tie Guan Yin tea
http://dezigner.tilda.ws/
---
very high rendering speed.
so high that rendering on this farm is cheaper than on a home computer.
Linux Plasma | Ryzen 5, 32Gb, SSD M2, GT 590 RX | BenQ 27 | Wacom One | Microsoft Ergo | Tie Guan Yin tea
http://dezigner.tilda.ws/
---